When life is hard it can often help to talk to someone outside of the situation.  I offer a safe space to slow down, pay attention and explore what is happening.  Much of what causes difficulty for us now has its roots in early life and relationships, yet shifts happen in the present. Paying attention to what is happening now and working through things in a therapeutic relationship can enable us to uncover new easier ways of being in ourselves and the world.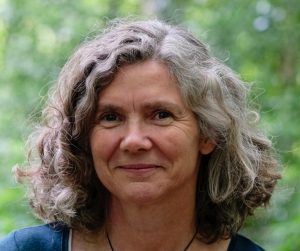 I specialise in attachment and developmental trauma, sexual abuse, bereavement, existential and spiritual crisis, the inner relationship with ourselves, chronic and acute human difficulties and anxieties.  Other issues I address include anxiety, depression, post-traumatic stress, dissociative disorder, non-sexual abuse, physical and mental health, self esteem, spirituality, relationships, anger, stress, work issues, grief and climate related anxiety.
I qualified with Re-Vision, an established yet innovative centre for counselling and psychotherapy, in transpersonal, integrative, psychotherapeutic counselling. I am also trained in Focusing which is a gentle, profound and natural way of paying attention to oneself and others that is based upon compassion and direct experience.
These trainings enable me employ Behavioural, Relational, Psychodynamic, Systemic, Transpersonal, Mindfulness, Existential and creative approaches in the work.  I keep up to date with the latest techniques with on-going training and supervision.
My own journey really began with an unravelling and uncovering of my inner self following the collapse of my faith in my early 20s.  This led me to find a Jungian therapist who helped me put myself back together, enabled some healing and development of parts of myself. I have since explored and found many ways of working with my own history, including practising Buddhism and Focusing which further inform my approach to counselling. I was a palliative care nurse in Bristol and South Africa for many years, then volunteered as a hospital Chaplain to the dying at Southmead and as a counsellor with Cruse bereavement care. I now work and volunteer part time at Kinergy, a sexual abuse charity, working one to one and holding group work.
I love being in nature with all the benefits this brings.  As the climate crisis unfolds, I am even more aware of the interconnectedness of our lives with nature and the need to find collective and individual responses.  I support various climate campaigning groups and am interested in working with people in this area.
I'm registered with the BACP and my course is accredited with the UKCP
I am member of the British Focusing Association and the Climate Psychology Alliance.
I work with adults and small groups delivering long and short-term therapy face-to-face, taking appointments at therapy rooms in Redcliffe and Kingswood or at my home in St Werburghs.
My rates are £50 for a 1 hour session, daytimes and some evenings.
Please feel free to contact me by phone for an informal preliminary discussion.
My contact details are:
Telephone: 07876 645566
Email: islawhiz@hotmail.com