A former journalist and writer (so he knows a thing or two about stress, pressure and deadlines), Daniel holds a BA (Hons) in journalism and sociology and an MSc in rational-emotive and cognitive behaviour therapy. He also holds a diploma in clinical hypnosis and another (with distinction) in cognitive behavioural hypnotherapy. He offers CBT (rational emotive behavior therapy model) and hypnotherapy, either separately or combined.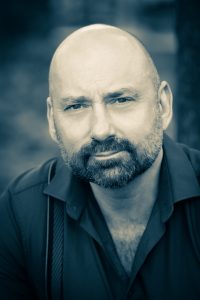 Hello there, I'm a cognitive behavior therapist, clinical hypnotherapist and life coach. I've been in private practice since 2004 and moved to Bristol from London in January 2016.
Previously, I held a private practice in central London, where I typically helped people deal with their anxiety disorders and work-related stress issues. I also worked for the Royal Brompton Hospital and for the occupational health division of HCA healthcare.
I currently work in private practice and for the Priory Hospital Bristol.
I have written and presented my own specialist workshops on a variety of topics, regularly speak and present on a variety of mental health and wellbeing topics and am the author for The Four Thoughts That F**k You Up (and how to fix them), available from Penguin/Random House.
I also accidentally turned my dog – a Staffordshire bull terrier rescue from Battersea Dogs & Cats Home – into a semi-famous therapy dog (seriously, she's appeared in articles and everything). She's registered with the charity, Pets As Therapy, and is often in clinic with me.
Staffies aside, having an experienced, trained professional offer you a safe and non-judgmental space in which to explore and manage your life issues can provide immense relief and is often instrumental in helping you regain control.
People often value the clear concise, solution-focused frameworks offered by both CBT and hypnotherapy.
I've helped hundreds of people make those changes, enabling them to either manage their problems more effectively or let go of them completely. I'd love to help you too. I have a special interest in the following areas:
Anxiety disorders
Anger management
Work-related stress
Addictions
Confidence issues
Chronic pain
Insomnia
Psychosexual dysfunction
I am happy to see people face-to-face or via Skype/FaceTime and over the phone.
 Contact me:
If you would like to know more about me and how I can help you, feel free to contact me on any of the below. I offer a free 15-minute telephone consultation if you need it.